Residential Generator Installation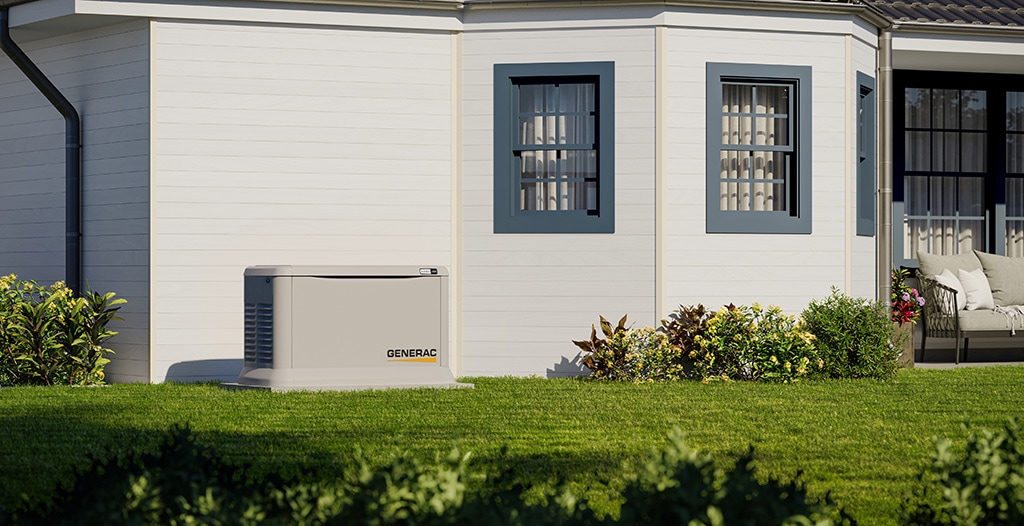 In 2022, Texas had more lightning than any other state, with more than 27 million bolts recorded. Storms and severe weather conditions put your Dallas, TX home at risk of a power outage, but you can avoid this inconvenience with the help of Generator Authority. Our team is committed to helping families keep their lights and power on.
We are a leader in the industry and are committed to providing trusted, top-quality backup generators that you can depend on when needed. Generator Authority should be your only call for home generator installations!
Let our experts provide the peace of mind you need so that the next time the power goes out, you will not have to worry about getting left in the dark.
Whole-House Generators
Installing a whole-house generator is a wise and practical investment. With a whole-house generator, you can keep your household running smoothly, even during the most unpredictable times.
Chances are you will experience a power outage at one point or another. Power outages are becoming much more common due to an increase in extreme weather conditions.
Experiencing a power outage at home means you will be left with spoiled food and no heating or air conditioning during extremely cold or hot outdoor temperatures.
As for businesses, the loss of power can negatively impact your daily operations, productivity, and anticipated revenue.
Backup power is essential for homes and businesses in Dallas, TX and the surrounding area. At Generator Authority, we offer generator installation services for your whole house. Leave nothing to chance—install the generator you need today for backup power whenever you need it.
When you turn to Generator Authority for backup Generac installation, you will no longer have to worry about losing your power. Your Generac unit will deliver power right on time when you need it. You will have enough for lighting, refrigeration, and heating or cooling.
Plus, your generator will turn on automatically—whether you are home during a power outage or away. What could be more convenient than that? Call us today for a free consultation and estimate.
How a Whole-House Generator Operates
A whole-house generator—also known as a standby generator—is a powerful backup system fueled by natural gas or propane. It can operate independently and continuously supply power to your entire home when the electricity goes out.
Here's how it works: Whenever your generator senses a disruption in electrical power, it instantly takes charge. An automatic transfer switch quickly disconnects your home from the utility grid and redirects power to your electrical panel. Whenever the power turns back on, your generator will automatically return to standby mode.
Benefits of a Whole-House Generator
Having a generator for your home is extremely helpful. Here is an overview of all the advantages your generator provides:
Offers Uninterrupted Power Supply: With a whole-house generator, you will experience less of an impact from an inconvenient power outage. The most important systems in your home—lighting, heating, cooling, refrigeration, and security—will continue functioning during blackouts.
Provides Comfort and Convenience: A power outage can be particularly disruptive, especially during extreme weather conditions. With a whole-house generator, you can stay comfortable and adjust the temperature as needed, keep your perishable foods fresh, and have access to lighting and electronics.
Protects Your Electronics: Power fluctuations during outages can damage sensitive electronics like computers, televisions, and home automation systems. A generator provides a stable power supply, protecting your valuable electronic devices.
Increases Your Home Value: Installing a whole-house generator is an investment that can increase the resale value of your property and act as a selling point. Potential buyers appreciate the added security and convenience of a backup power system.
Keeps You Safe: During prolonged power outages, security systems may become compromised. With a generator, your home security systems, including alarms and cameras, remain operational, ensuring your family's safety.
Whole-House Generator Installation and Replacement
When it comes to generator installation and replacement, our team of licensed and experienced professionals is here to assist you. Our Generator Authority experts can discuss your goals and recommend an appropriate generator for your home.
We will thoroughly evaluate your home's power needs and promise to guide you every step of the way. You can count on us to help select and install the right generator size and model.
If it's time to upgrade your outdated or inefficient generator, our experts can help you choose a replacement and install it for you. We are always happy to assist with selecting a new, more advanced model that will meet your unique needs.
Don't forget to speak to our experts about financing.
Install Your Whole-Home Generator
Avoid power outages that disrupt your life and leave you in the dark. Invest in your safety and enjoy peace of mind by installing a whole-house generator. Our Generator Authority professionals are ready to help you with all your generator needs. Schedule your consultation and take the first step toward safeguarding your Azle, TX, home's electricity needs. Call 817-984-3600 or request service online.
"We are very pleased with the installation and maintenance service of our 24kw standby home generator. The technicians are knowledgeable and responsive. Also, the office staff is always available to answer any questions. We made a wise selection in choosing Generator Authority."
- Mark M.
"I had a 26kW Generac generator installed and it was a great experience. Everyone was helpful during the process and completed the installation in 1 day. I will be using Generator Authority for my repair and maintenance needs! What a great team!"
- Molly H.
I recommend Generator Authority for all generator and electrical work.
April S.
Excellent and professional personnel, staff, and service. One stop shop for complete installation and yearly service.
I reviewed numerous brands, service, and installation companies. Generator Authority was top rated by BBB and customer reviews. This was all correct information. Generator Authority unlike most companies will be the one to make your location and go over what size generator you need. They will install the equipment. They will service the equipment. Most other installations are all separate from one another.
My Generac has supplied power to my residence numerous times for power outages. It has never failed.
Red O.