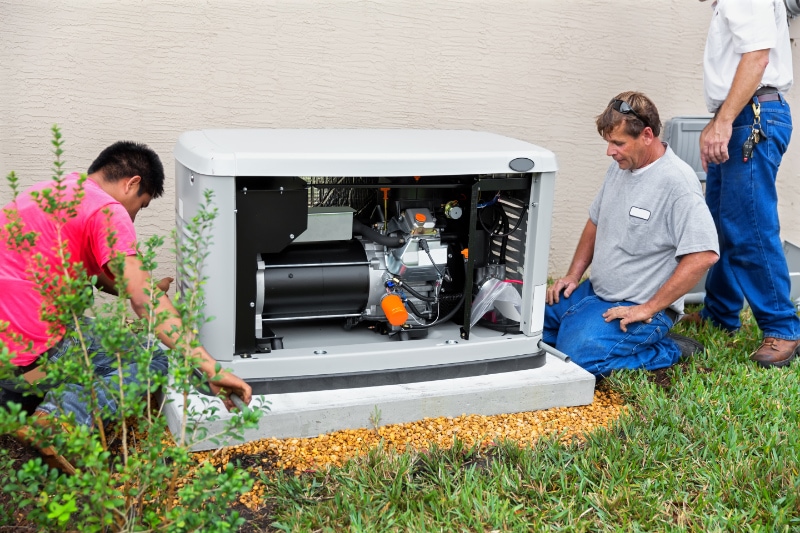 Without a generator, you'll be catapulted back into a bygone era—complete with candlelit activities and no Wi-Fi. Long-term outages are even worse. Your food will spoil. Additionally, your Dallas home may become difficult or impossible to live in during extreme cold.
Americans lose power more frequently than citizens in any other developed nation, according to data from the U.S. Department of Energy (DOE). The data shows weather was the most common cause for outages.
Nobody controls the weather, but generators can provide homeowners with security and predictability during uncertain times. That's why an increasing number of Texas residents are investing in whole-house generators.
Thinking about getting a generator? Let our certified experts at Generator Authority help you find and install the perfect fit for your home. If you're new to generators, here's what you need to know:
How do home generators work?
Your home generator runs on natural gas, propane, or oil. Permanent backup generators are wired into your electrical panel via a transfer switch. During an outage, the transfer switch will seamlessly kickstart your generator to keep your home powered.
Are they easy to install?
Permanent generators require advanced circuitry work. While DIY projects are awesome, we wouldn't recommend installing one yourself unless you're an electrician. Installations are often a two-day proposition due to the in-depth planning, wiring, and fine-tuning that goes into it.
What is the installation process?
We break our installations into five steps:
One of our professionals will hook up the transfer switch to your grid.
Our team unloads the generator and positions it in a permanent spot we've deemed safe and most logical.
A professional connects the generator to the switch with an electrical line.
Our pipe fitter hooks up the generator to its fuel supplier (i.e. natural gas or oil).
We perform a test. If all checks out, your generator is ready for business!
How long will my generator last?
Generators are a long-term investment that will keep you covered for a significant chunk of time. They can last anywhere between 20 to 40 years.
What can I do to maintain my generator?
Listen for any irregularities during your generator's weekly test run. Be sure to keep a clear area around your outdoor unit, which can overheat if it gets clogged with debris. Additionally, you'll need to replace the spark plugs once every two to four years.
Set up a consultation today!
If you're interested in having a generator installed, Generator Authority offers free consultations with an up-front estimate (no surprise fees!). Call our Dallas, Texas, offices today at 817-984-3600 or request service online.