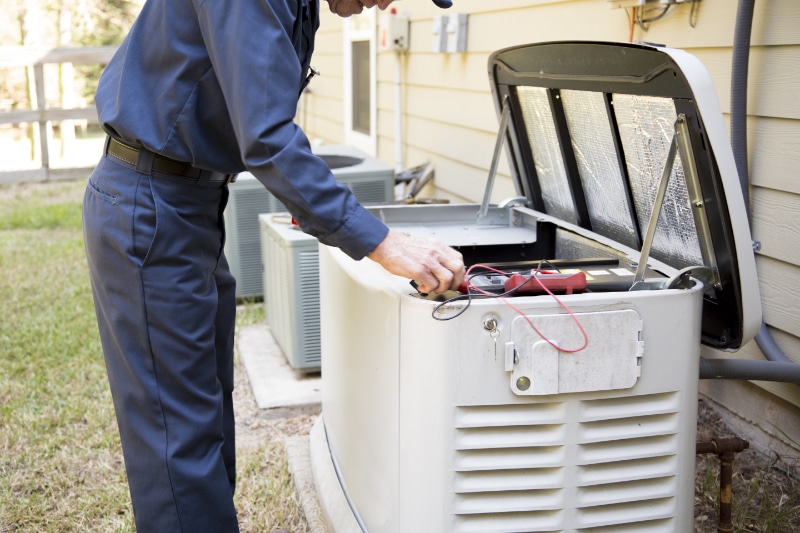 If you live in an area with frequent power outages, you know the importance of owning a whole-house generator.

Whether it's preventing food from spoiling or keeping you warm on a cold winter night, owning a whole-house generator can be a lifesaver during an extended outage. And like a car or any other piece of machinery, you always want to be sure to properly maintain your generator so you can count on it when you need it most.
Our team at Generator Authority always strives to provide you with the best solutions to keep you and your loved ones healthy, safe, and comfortable inside your Southlake home. We always want you to get the most value out of your heating, ventilation, and air conditioning (HVAC) equipment!
Maintaining Your Whole-House Generator
Whole-house generators, also called standby generators, typically connect to your Texas home through a natural gas line. Homeowners without easy access to a gas line will need to power their generator with propane or diesel fuel.

Here are some tips to keep your generator running at optimal efficiency:
Know your owner's manual! Read through the manual to understand how your generator works, and keep it in a convenient spot if you need to troubleshoot a problem.
Be sure to run the generator three to four times a month to ensure the oil is lubricating the system correctly and no warnings or alarms pop up.
Check the oil level in your generator every eight hours while it's running. During an extended outage, turn it off once a day and check the oil level to see if it needs replenishing.
Replace the spark plugs every two years.
Inspect the battery and its housing compartment for any signs of corrosion. Also, check the coolant levels.
In the event of an extended power outage, be sure to schedule an appointment to have one of our professionals at service your generator after 48 hours of continuous use.
Keep the area clear of debris around your generator, and always check to be sure no rodents or other pests are trying to make a nest inside a compartment.
A whole-house generator can add tremendous value to your Southlake home, especially if you live in an area struck with frequent power outages. According to the US Department of Energy (DOE), power outages are costing the American economy about $150 billion a year.
Make it a priority to maintain this piece of equipment throughout the year.
Generator Tune-Ups and Inspections
We recommend scheduling two preventative maintenance visits a year with one of our professionals. You may not use the generator too often—but you want to be sure it turns on right away when you do need it.
During a maintenance visit, we will check and refill fluids, change the spark plug, change air and fuel filters, inspect the battery and wiring, flush the coolant system, and more.
Learn More About Whole-House Generators
Whether you are in the market to purchase a new generator or already have one installed at your Southlake, Texas, home, you can count on Generator Authority to ensure you get the most value out of your investment. Call 817-984-3600 or request service online today to learn more about generators and other products.